Maria Minna, head lady at CIDA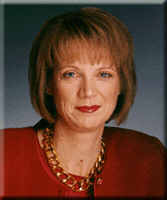 Jane Stewart, head lady at HRDC
Maria Minna, Minister of International Co-operation Canadian International Development Agency, admitted in the Star July 18th, 2001, that $2 billion is a lot of money and that CIDA budget was increased by $435 million.

These are the types of numbers CIDA deals with and gives to their socialist friends in the developing world. This huge outgoing flow of Canadian taxpayers dollars is a fine illustration of why Canadians are the most overtaxed individuals in the industrialized world -- not tax free until sometime in August each year -- why the Canadian national debt is $600 billion and the Canadian dollar recently dropped to 63 cents US.

This outflow of billions is never questioned in parliament. Not that it would matter. HRDC lost a billion and was questioned in parliament and nothing happened. The list of countries and territories that receive these huge donations from CIDA reads like a large dictionary: 56 countries in Africa and the Middle East; 32 countries in Asia; 37 countries in the Americas and 27 countries and territories in Eastern Europe.

The reason for giving Canadian taxpayer dollars to these socialist dictatorships is always shrouded in government double speak phrases about programs, youth, sports and socio-economic integration of the young people in Francophonie. CIDA treats taxpayers dollars as though it is monopoly money to be given, as much as possible, as often as possible, to as many poor socialist dictatorships that they can find. A graphic recent example would be $5 million to Zimbabwe for gender equality. Then there's the 51 La Francophonie countries -- French speaking countries that they especially love -- presently (July 2001) doing their thing in Ottawa -- 4 refugee claimants so far.

Rational people should be warned to stay away from CIDA web pages because these people at CIDA have the fervor of religious zealots. And being left-wing also means they never have to say they are sorry. They want to be judged by their good socialist intentions -- never the bottom line.

The bureaucrats and politicians at CIDA travel the world constantly looking for more projects in which to pour more Canadian dollars. But Canadians are not allowed to know where they go or when -- it's a state secret. (Forget the Freedom of Information Act) Because being socialists also means they like to cover their tracks.

The blatant pompous self assurance of these international socialists could be compared to the self assurance of young communists during the Stalinist era. The idea of helping their socialist friends in the developing world is more important to these tax-and-spend Liberals than helping their fellow overtaxed Canadians.

As you pay your enormous taxes for 2001, you might wonder what your politicians in Ottawa do with your tax money. Believe it or not they give much of it away to their worthy causes while it takes you until sometime in August to be tax free every year. (The Americans are tax tree in May) You are merely a number to the tax-and-spend types in Ottawa.

The bureaucrats at CIDA and HRDC, really know how to give Canadian taxpayers money to their worthy causes. Either that or they are in a hurry to empty the treasury. Whereas HRDC gives money to every worthy Liberal supporter, CIDA is concerned with insignificant events and people on the other side of the world and how many Canadian taxpayers dollars they can donate to these left-wing socialist causes.

They find countries and places that are not even listed on the map. It appears that there is no limit to their generosity. No Canadian has ever said, "enough, enough". The head lady, Maria Minna, Canada's Minister for International Cooperation, is never questioned in parliament about her spendthrift ways. CIDA uses the excuse that they support sustainable development activities in order to reduce poverty and to contribute to a more secure, equitable and prosperous world.

That should make you feel better when they come after you because you havn't paid all your taxes. CIDA gives billions to more than 100 countries. The list reads like a large dictionary: 56 countries in Africa and the Middle East; 32 countries in Asia; 37 countries in the Americas and 27 countries and territories in Eastern Europe.

These isolated Liberals and bureaucrats at CIDA seem to be in a world of their own -- out of touch with harsh Canadian reality. What they are doing is politically correct therefore it does not matter if they empty the treasury or how much they increase our national debt of $600 billion. They are like missionaries with a cause -- give as much Canadian taxpayers money to as many foreign causes that they can find. They search the world for earthquakes, floods, storms, poor people, sick people and when they can't find any, they give money to strange problems and even stranger people.

Their web sites are overloaded with details, plans, operations, briefings, accounts, procedures and assessments -- a bureaucrat's dream world.

And to make matters worse, the Liberals just got reelected to parliament for another 4 years. Canada has several big problems to solve and they are all in Ottawa.

Unfortunately the international socialists in the Canadian Government are more concerned about giving money to far-distant socialist causes than paying down the enormous national debt -- $600 billion and counting.