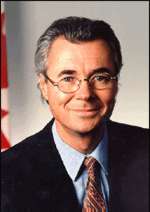 Mr. Pettigrew is interested in letting us know some of the details.
The FTAA Summit in Quebec is now in the past. The papers have been signed, the announcements made and the rioters arrested. Now we can sit down and wonder what we learned from this Summit.

NAFTA has been an economic boon to Canada, US and Mexico. And now, the son of NAFTA, the FTAA may do the same for the 34 countries that signed on in Quebec.

The CBC taxpayer funded biased socialists pumped out their prejudiced propaganda about the Summit by interviewing a long series of rioters. The taxpayers who pay the CBC bills do not seem to have a leash on the CBC and the CBC seems to be influenced by socialist philosophies. No doubt their communist friend Fedel Castro was proud of their propaganda about the FTAA and the CBC once again showed that their only reason for existing is to spread communist-socialist propaganda. Democracy and democratically elected leaders are anathema to them. Their type of collective reasoning and propaganda led the Soviets down the path to the Gulag. Those who do not learn from history are bound to repeat it.

The taxpayer funded CBC world of featherbedding and communist propaganda should be downloaded to the normal world where radio/TV stations have to depend on listeners and watchers rather than the taxpayers.

This is one of the lessons we should learn from the FTAA Summit.
Click here for the