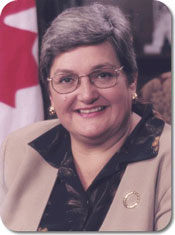 Immigration Minister Caplan
Canadians have no input into Canadian immigration policies. Decisions are made secretly in remote and distant Ottawa. Or suddenly by Mr Chretien as he tours the Middle East and invites the Palestinian refugees to come to Canada. Consultation with Canadians on this vital factor that could have such an overwhelming effect on Canadian life, is not known to the Liberals.

Canadians look on helplessly as politicians play with the system, a system already plugged by phony refugees and illegal immigrants many previously deported from Canada and the U.S. for every crime on the books. It often appears that the international underworld is already enroute to Canada because Canada is probably the only country in the world where so many deportation orders are allowed to wallow in the court system for years while being scrutinized and cancelled by judges for insignificant reasons. This even after deportees have been declared a danger to the public by the Immigration Department. The wheels seem to have come off the Canadian immigration system. The Immigration Act means nothing; it is what is going on in the judge's head or a politician's head that day. The system smacks of nepotism, masochism, amnesia and the denial of reality. These judges and politicians confuse the real Canada with a Canada in their imaginary socialist ideals.

Supreme Court decisions on immigration are made by judges who were appointed for life (until they die or turn 75) and these judges have never been questioned about their hidden prejudices or vested interests by an elected authority. Therefore these judges are completely removed from the reality of Canadian life. They do not have to base their decisions on prior law or previous legal decisions; it is what they read in the tealeaves of the Canadian Charter of Rights that day. They can never be questioned, either before they take up their appointments for life or after they have made their stupid decisions. It is complete Canadian judicial dictatorship.

Canadians are not allowed binding referendums or for that matter any input into government policy. They are not even allowed to vote for their prime minister or a senator. Canadians are not allowed to know until about a month prior, when the next election will be held. The Canadian prime minister does not have term limits as the US president does. Canadian MPs are not allowed to represent their constituents in parliament because of party discipline. Canadians are not allowed to question appointees to the life-long position on the Supreme Court.

It is left-wing Liberal Party policies or nothing. That is why seething national issues such as immigration remain buried for years while the media present Canadians with the constant drip of daily trivia and government propaganda.

Put "Canadian Immigration" into a search engine and hundreds of immigration companies are instantly there.
Add to this problem; the Canadian Charter of Rights, which gives rights to everyone in the world and it, appears that everyone is now claiming rights in Canada.

Unlike Canadians the Swiss are allowed binding referendums. Last year they got 100,000 signatures on a referendum petition, to put the question on the Sept. 24 ballot whether their constitution should be amended to limit the number of non-Swiss to 18 per cent of the population. According to official data, the number of foreigners in Switzerland - 19.3 per cent - already exceeds the would-be immigrant limit.

What do you think the outcome would be if Canadians were allowed a binding referendum on this issue?