The Liberals just got reelected so they are not in the least concerned about HRDC or CIDA or the missing billion dollars. They are going to tax and spend on their favorite programs like they have done for years. If they give a slight tax break in one area, they will take back twice as much in another area. They cant afford to be giving real tax breaks. Are you kidding? They have that $600 billion national debt. Not that they are too concerned about that but they need the money to funnel it through HRDC and CIDA in order to give it to worthy recipients. And if the majority of those worthy recipients happen to be in Quebec, thats just too bad for those in western Canada. Its called tough love. Those westerners will just have to show more respect for Ottawa.
Just because those westerners elected their own senator-in-waiting, they thought they were going to run their end of the country. Who do they think they are? Have they got their guns registered yet? There may be some criminals out there who failed to register their guns.
Those westerners are just going to have to get out the little Red Book and find out what its all about. And along with respect, they will just have to show a little discipline. We may have to give most of Alberta back to the Indians just like we did in British Columbia. Then we will not need to even talk to Albertans. We will just talk to the Indians. Those Albertans will just have to learn about human rights.
The budget should be balanced, the Treasury should be refilled, public debt should be reduced, the arrogance of officialdom should be tempered and controlled, and the assistance to foreign lands should be curtailed lest Rome become bankrupt Marcus Cicero (0106- 0043)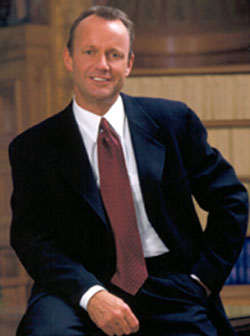 Stockwell Day, leader of the western based Canadian Alliance

IS THERE A CONNECTION BETWEEN FRANCOPHONIE AND WESTERN CANADIANS?
The Francophonie group started in Versailles in 1986 as a movement to arrest the decline of French as an important language. It was a French counterbalance of the Commonwealth summit meetings and games. But nowadays it has evolved into a vast socialist network for developing countries and their protégés. There are fewer French speakers in the world than there are Portuguese speakers in Brazil and there are 12 Francophonie countries that do not have French listed as a language. It is a graphic illustration of the present Liberal government forcing English-speaking Canadians to support their global socialist policies within this so-called French language institution.
http://www.acdi-cida.gc.ca/cidaweb/webcountry.nsf/index.html
The Canadian International Development Agency (CIDA) tells us that we are part of La Francophonie, a vast network of 51 states and governments that share French as a common language. They seem to have overlooked the Francophonie countries that do not speak French. La Francophonie met in Moncton in 1999 for the eighth Sommet des chefs d'État et de gouvernement des pays ayant le français en partage.
They have Francophonie summit meetings and Francophonie games. It gives federal politicians another reason to travel the world as if they needed a reason. Six Francophone Summits have been held:
1987 Quebec
1989 Dakar
1991 Paris
1993 Port Louis
1995 Cotonou in Benin
1997 Hanoi.
1999 Moncton New Brunswick.

Francophonie Games have and will be held:
1989 Morocco
1994 France
1997 Madagascar
2001 Canada Ottawa Hull area.
2005 Niger.
The Francophonie organization now seems to be predominantly African and non-French speaking. Regardless, the Ottawa government loves them all and generously supports them with Canadian taxpayers dollars.
African Countries: Burkina Faso, Djibouti, Gabon, Morocco, Rwanda, Burundi, Central African Republic, Guinea, Niger, Togo, Benin, Comoros, Egypt, Guinea-Bissau, São Tome and Principe, Tunisia, Cameroon, Congo, Ivory Coast, Equatorial Guinea, Mali, Senegal and Chad.
Countries in Francophonie that do not have French listed as a language: Cape Verde, Macedonia, Saint Lucia, Czech Republic, Slovenia, Poland, São Tome and Principe, Bulgaria, Equatorial Guinea, Lithuania, Moldova, Romania.
Some 5,000 athletes and officials are expected at the Francophonie Games in Ottawa-Hull next year at a cost of about 40 million Canadian dollars not counting CIDA expenses. Benoit Hubert, deputy director-general of the organizing committee, told a press conference that all Francophone African countries, except the Democratic Republic of Congo, have confirmed their participation. Hubert also said that the Canadian International Development Agency has decided to pay for the transportation of contingents from the developing countries. That should make the Canadian taxpayers feel better and take their minds off that $600 billion national debt. And those tens of thousands of westerners who will be coming to the games, they will just have to pay their own transportation. It will help them keep their minds off this western alienation stuff.
Government House Leader Donald Boudria went to Quebec City in April 98 and begged for an agreement with Quebec Municipal Affairs Minister Rémy Trudel about these upcoming Francophonie Games because both France and Quebec had voted for these games to go to Beirut and voted against the Ottawa government in Cameroon in January 1997. There was a strong possibility that Quebec would boycott the games even though the federal government (we the taxpayers) would be paying for it. Quebec eventually won an equal partnership in the games although it only cost them $3 million.
The feds made a big issue out of this $3 millionas if it could compare with the multi millions the Canadian taxpayers would be paying. Don Cherry wrote in the Vancouver Province on March 31, 98 5that Canada will spend $12 million to bring athletes to Canada for the games.
If you see a connection between western Canada and this Francophonie group, let me know.
HOW THE WEST COULD GET OTTAWA'S ATTENTION

I have come to the conclusion that there is only one way for Western Canada to get Ottawa's attention.
One or more of the provinces will have to do what Quebec does periodically -- have a referendum. This so-called and obvious western alienation is probably good for something more than the occasional editorial. Quebec has their own Immigration Department, their own tax system and their own Quebec Pension Plan, which unlike the Canada Pension Plan, is not broke. They don't have to endure bilingualism. In fact the proceedings in the Quebec parliament are not even translated into English. Shawinigan Quebec got more HRDC grants than all the western provinces together. Quebec, unlike other provinces has foreign delegations in Austria, Germany, France, Britain, Belgium, China, Japan, Mexico, Syria and the U.S. Quebec gets royal treatment from Ottawa just because they had a few referendums. Everyone bends over backwards because they have this fear that Quebec might have another referendum.
One of the western provinces should have a referendum, not necessarily about separation, but about sending a special representative to Washington. The outcome of this referendum would certainly get Ottawa's attention.
And while those Western Provinces are at it they should consider massive use of the notwithstanding clause because now Chretien has a stronger lock on the federal government than he had prior to the election. Those westerners who voted like they did should have the guts to do something else rather than wait for Chretien to tax them to death and then add the GST to their funeral expenses the same GST he once promised to cancel.